Beginners Guide to Waterproof Vibrators
Vibrators are a sex toy that is designed to be applied to erogenous zones in order to product pleasurable sexual stimulation. They are often recommended by sex therapists for women who have difficulty climaxing through masturbation and intercourse alone.
Vibrators are now some of the most popular female sex toys and are very straight forward to use. Our sex educators and sex toy experts usually suggest using a vibrator in a room that you often feel comfortable and relaxed in. Once you have mastered using your vibrator in your bedroom, or other room, it may be time for you to venture into more aquatic regions like your bathroom. This is when you will need to make sure that your vibrator is waterproof.
Types of Waterproof Vibrators
There are many different types of vibrators available to buy, and nowadays a lot of vibrators are waterproof. Below our sex educators will discuss the different types of waterproof vibrators, and also the best waterproof vibrators in each category.
Waterproof Anal Vibrators
Anal vibrators are a type of sex toy that are designed for insertion into the rectum. These vibrating sex toys usually feature a slim shaft, to allow for easy insertion, and a flanged base, to prevent the sex toy from be swallowed by the rectum. 
There are a few different types of anal vibrators, and below are a few of our best.
Best Waterproof Vibrating Butt Plug
Our best waterproof vibrating butt plug is the Commander Warming Vibrating Butt Plug. This butt plug features a tear drop shape that houses the vibrating element. This sex toy also features a flanged base that prevents the anal vibrator from being swallowed by the rectum.
This butt plug has three different vibration settings that will drive you wild. What makes this anal vibrator different is that it features a heating element, that makes this butt plug heat up to 42 degrees.
Best Waterproof Vibrating Anal Beads
Anal beads are a sex toy that is designed to be inserted into your rectum and the pulled out repeatably. They usually consist of numerous spheres that are all joined together. Our best waterproof vibrating anal beads are the Rocks Off Pearls Petite Sensations Anal Beads.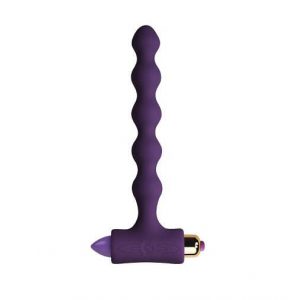 These anal beads consist of five spheres that are joined together by silicone. The base features a bullet vibrator that is waterproof and will emit vibration functions that travel throughout. The bullet vibrator can also be used as a clitoral vibrator, making this a two in one sex toy.
Best Waterproof Remote Controlled Anal Vibrator
Remote controlled sex toys are some of the most popular sex toys for couples, and remote anal vibrators are no different. These are anal vibes that can be controlled by a remote. Our best remote anal vibrator is the Svakom Primo Remote Controlled Anal Vibrator.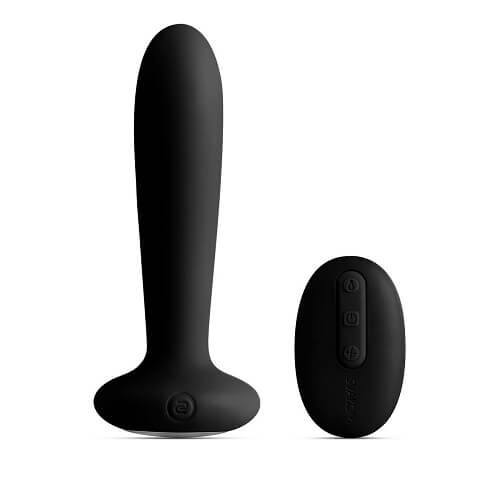 The Svakom Primo has a easy to use, sleek remote control that allows you to control the 25 different frequencies. It also features the Svakom Intelligent mode that gradually builds up in vibration power to incrementally bring you to climax.
Waterproof Bullet Vibrators
Bullet vibrators are a type of clitoral vibrator that is designed to externally stimulate your most sensitive erogenous zone. They feature a pointed tip that allows for targeted stimulation. Depending on the type of seal, many bullet vibrators are waterproof. Rechargeable bullet vibrators are usually waterproof as they are tightly sealed.
Best Waterproof Powerful Bullet Vibrator
Powerful bullet vibrators are for those power hungry girls who like targeted stimulation with amazing vibration functions. Our best powerful waterproof bullet vibrator is the Loving Joy Power Bullet Vibrator.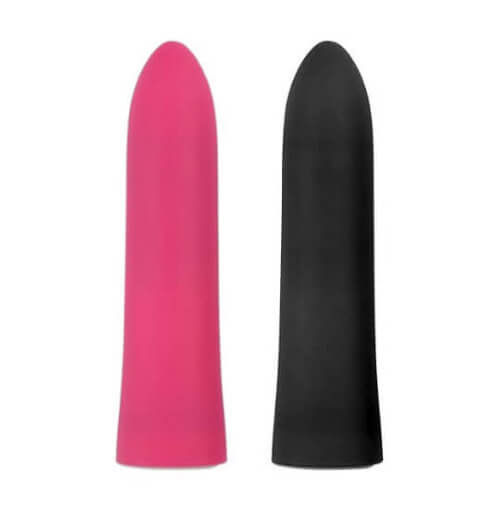 The Loving Joy Power Bullet Vibrator is one of our best vibrators and has been since it was voted as the best vibrator in 2018 by the Good Housekeeping Tried and Tested Panel. This powerful bullet vibrator features twenty vibration functions that will drive you wild. It is also completely submersible, meaning that you can take it in the shower or bath for some wet play time.
Best Waterproof Textured Bullet Vibrator
Textured bullet vibrators are a type of vibrating sex toy that are great for clitoral stimulation. The textured sleeve allows for you to caress your clit like never before! It also means that you can use it as a penetration toy. Our best waterproof textured bullet vibrator is the Rocks Off Unihorn Bullet Vibrator.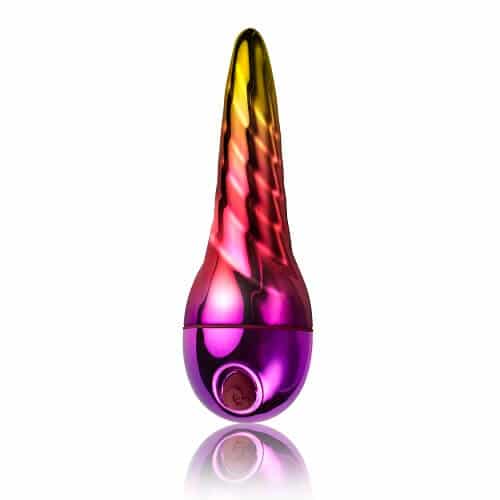 This textured bullet vibrator features ten different speed settings that will drive you wild. This vibrator is 100% waterproof meaning that you can use it in the bath or shower for some wet sexual stimulation.
Waterproof G-Spot Vibrators
G-spot vibrators are sex toys that are specifically designed to massage the g-spot. This is a bean shaped area that is located inside the vagina, just behind the clitoris. Stimulating this area properly can lead you to experience female ejaculation, as such it is incredibly important that you buy a waterproof vibrator!
Best Waterproof Mini G-Spot Vibrator
Mini g-spot vibrators are small and discreet sex toys that feature a curved tip that allows for targeted clitoral stimulation. These g-spot vibrators are really popular with those who are buying sex toys for the first time. Our best small g-spot vibe is the Loving Joy Mini G-Spot Vibrator.
This mini g-spot vibrator features an easy to use twist and go base, making it extremely easy to use. The tip is flat, allowing for targeted g-spot stimulation. This vibrator has an easy seal on it that makes it waterproof as soon as twist the base on securely.
Best Waterproof Bendable G-Spot Vibrator
Bendable g-spot vibrators are great as they allow you two bend the vibrator to suit your anatomy, and stimulate you g-spot even more. Our best waterproof bendable g-spot vibrator is the Loving Joy Flux Bendable G-spot Vibrator.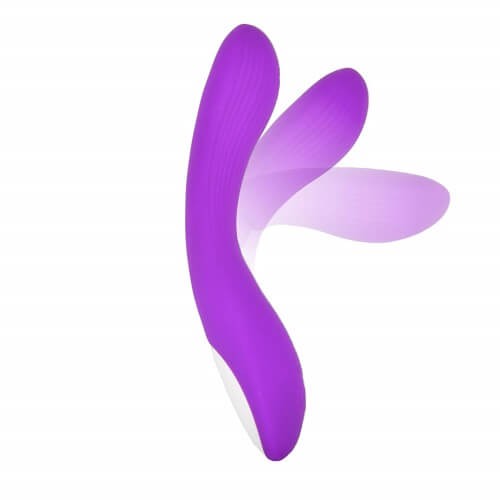 This bendable g-spot vibrator features 10 powerful vibration patterns that feel amazing. This g-spot vibrator is made from a soft, real feel silicone making it feel cushioned. It also features a textured shaft for even more stimulation.
Waterproof Rabbit Vibrators
Rabbit vibrators are vibrating and rotating sex toys that are designed to provide dual clitoral and internal stimulation. They usually feature rabbit ears that are designed to massage to clitoris. The shaft will have another vibration motor in it, or will feature a rotating motor that twists and turns internally.
Best Waterproof Classic Rabbit Vibrator
Classic rabbit vibrators usually feature beads that rotate at different speeds. They will also feature rabbit ears that also feature different speeds. Our best waterproof classic vibrator is the Mark Two Jessica Rabbit Vibrator.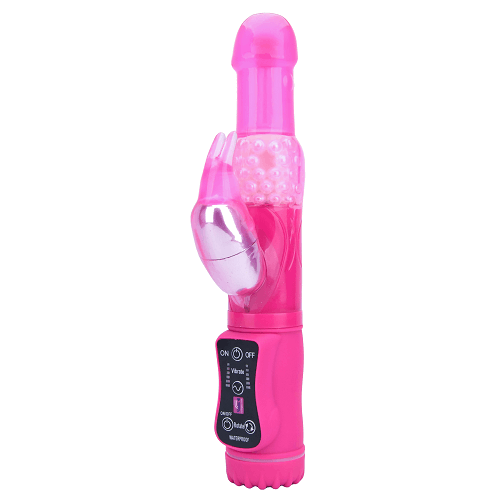 This Jessica Rabbit Vibrator features a classic rabbit vibrator design with pearl beads that are designed to rotate inside you as well as rabbit ears for clitoral stimulation. The beads have six different rotation functions, as do the rabbit ears, giving you a total of 36 different combinations to choose from.
This rabbit vibrator features a waterproof seal, meaning that it is great for you to take into the shower or bathroom for some wet play!
Best Waterproof Silicone Rabbit Vibrator
Silicone rabbit vibrators are incredibly popular due to the material being non-porous, meaning that they are extremely hygienic. Unlike other rabbit vibrators these ones usually don't feature internal beads. Our best waterproof silicone rabbit vibrator is the the Loving Joy Flex Silicone Rabbit Vibrator.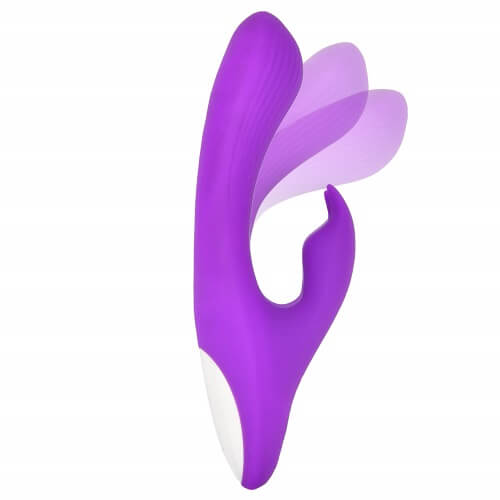 This silicone waterproof rabbit vibrator features ten powerful vibration functions that can easily be controlled by the control pad that is located at the base of the vibrator. It also features a bendable shaft meaning that you can bend it to suit your anatomy even more.
Waterproof Wand Vibrators
Wand vibrators are a type of clitoral vibrator that features a vibrating ball that is usaully attached to a handle. Wand vibrators are some of the most powerful vibrators available, especially mains operated ones like the doxy. However, mains operated ones aren't waterproof, so we do not advise taking them for some wet play. 
Best Waterproof Powerful Wand Vibrator
If you are looking for a powerful vibrator then a wand sex toy will probably be the right one for you. Our best waterproof powerful wand vibrator is the Loving Joy Vita Rechargeable Wand Vibrator.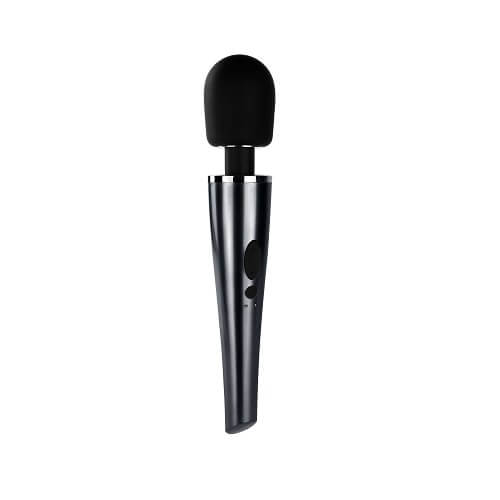 The Loving Joy Vita is a rechargeable wand vibrator that is completely waterproof. It features a silicone massage head that is great for sexual stimulation. It also features ten vibration functions which feels amazing as to work through.
Best Waterproof Mini Wand Vibrator
Mini wand vibrators are great for those who are looking for something a bit more discreet. Our best waterproof mini vibrator is the Svakom Emma Mini Wand Vibrator.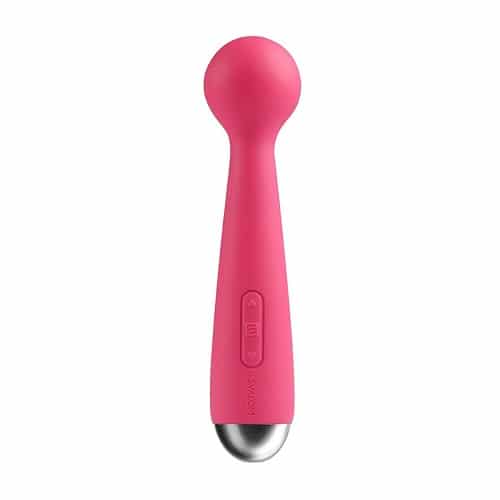 This is an incredibly powerful mini wand vibrator that features a flexible neck, allowing you to provide even more pressure to your clitoris. This vibrating wand is completely waterproof and great to take in the bath or shower!
Many vibrators are now waterproof, simply check the product description to confirm whether or not your sex toy is. 
If you have any more questions about waterproof vibrators then please feel free to contact us and one of our sex educators and sex toy experts will get back to you as soon as possible.