What Are Vibrating Panties?
Vibrating panties are some of the most popular sex toys for couples. They are a type of clitoral vibrator that are designed to be worn, and supported by a pair of underwear. Vibrating panties have other names like knicker vibrators, and are essentially just panties that are designed to hold a vibrator inside them.
Many people like to use a knicker vibrator in public, and if this is something that you and your partner want to try then we recommend buying a silent and discreet one! 
How To Use Remote Controlled Vibrating Panties
Vibrating panties are a sex toy that you can use by yourself, or with your partner. Below our sex educators and sex toy experts have written down some of their best tips to help you use knicker vibrators as best as you can!
Check It Out
When you first receive any sex toy we always recommend that you take a look over it, making sure that everything is there. Make sure the product is fully functional and doesn't have any issues with it. Once you have confirmed this start by slowly turning it on.
Get Used To The Remote Control
Once you have turned the knicker vibrator on start to get used to the remote control. Have a play around and take a look at the different vibration settings to see which one you like the feel of. There is nothing worse than using a remote controlled sex toy and pressing the wrong button to kill your buzz!
Slip It In
Once you have got used to the different vibration settings and the remote control it is time to put the vibrating panties into your underwear. Make sure you start off slowly and gradually move up through the different intensities.
Move Through The Vibration Patterns
When you have slipped it in and set a steady pace start working through the different vibration patterns. If you are using them for the first time then be aware that you may come very quickly, so if that happens then relax and enjoy it!
Let Your Partner Take Control
Panty styled vibrators are great fun to use by yourself, but these sex toys are great to use with your partner. Give them the remote control once you have slipped it in to your underwear and let them watch you enjoy all the vibration settings that your new clitoral vibrator has to offer!
Clean Up!
Once you have finished with your panty vibrator make sure that you give it a good wash down. You can clean your vibrators with specifically formulated sex toy cleaner or warm water. We recommend to avoid using soap as this can upset the natural pH balance of your vagina.
What Are The Best Vibrating Panties?
If you think the a pair of vibrating panties or a knicker vibrator is the right sex toy for you then take a look below at some of our best vibrating panties.
Fifty Shades of Grey Relentless Vibrations Remote Control Panty Vibrator
The Fifty Shades of Grey Relentless Vibrations Remote Controlled Panty Vibrator is a USB rechargeable clitoral vibrator that comes with a remote control.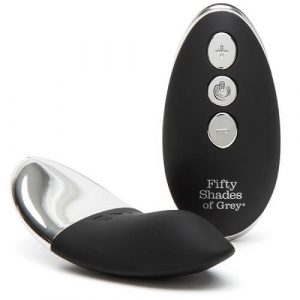 This panty vibrator is extremely slim, so it won't look like you are wearing anything extra in your underwear.
This beautifully crafted sex toy also comes with a satin storage bag so you can hide it away easily.
Shop Now
Fifty Shades Freed My Body Blooms Rechargeable Remote Control Knicker Vibrator
The Fifty Shades Freed remote control knicker vibrator has a total of 8 patterns and 12 speeds of vibration for complete customization!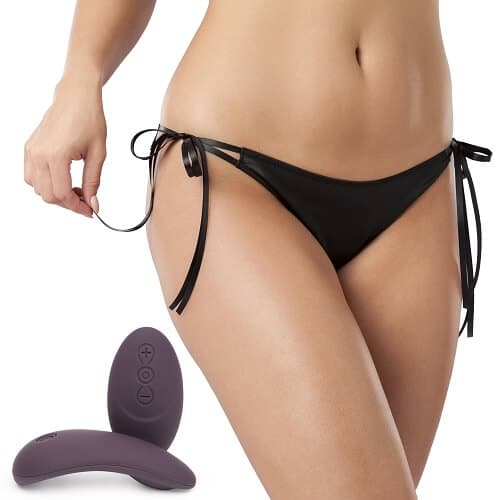 This knicker vibrator is ergonomically shaped to allow for extra comfort and entice excitement. Also included with this panty vibrator is a pair of satin and stretch lace briefs, allowing you to comfortably use this knicker vibrator with a specifically designed pair of underwear. 
Shop Now
Fetish Fantasy Vibrating Panties
The Fetish Fantasy Vibrating Panties are a set of panties with a bullet vibrator. This pair of sexy underwear with bullet vibrator makes a cheap alternative compared with remote controlled sex toys.
These cheap vibrating panties are a very popular clitoral vibrator and extremely easy to use.
Shop Now
CalExotics Remote Control Knicker Vibrator
The Cal Exotics Remote Controlled Knicker Vibrator features a sensually contoured vibrator that fits delightfully into your underwear.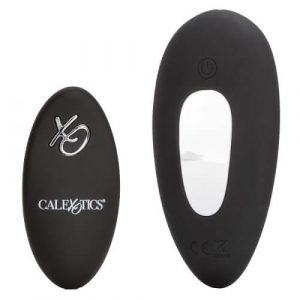 This silicone panty pleaser is rechargeable and fully charged in 70 minutes, which gives you a total of 60 minutes playtime!
This remote controlled sex toy features a total of 12 functions that you or your partner can scroll through by clicking the XO button.
Shop Now
If you have any more questions on what vibrating panties are then feel free to contact us and one of our sex educators or sex toy experts will get back to you as soon as possible.