How To Clean A Fleshlight
Fleshlight male sex toys are the cheapest products to buy. So once you have bought your Fleshlight you will need to clean and take care of it as best as you can.
Why You Should Clean Your Fleshlight
You should clean your Fleshlight after every use. There are a few main reasons for why you should clean your Fleshlight, the main ones being that after you ejaculate in it your sperm can congeal on the Fleshlight sleeve destroying the internal canal. This will cause your Fleshlight sleeve to go mouldy, smelly and unable to use in the future.
If you don't clean your Fleshlight, the sleeve can begin to harbour bacteria. Using a dirty Fleshlight with bacteria in it could cause a UTI or yeast infection. If you pick these up from your Fleshlight and then have sexual intercourse with your partner, you could pass these on to them.
How To Clean Your Fleshlight
There are a few different ways in which you can clean your Fleshlight. We will start off with the recommended way, using the official products, and then discuss a slightly unofficial way using unbranded products that are similar to Fleshlights.
The Official Method
The official method for cleaning your Fleshlight includes you using specific Fleshlight branded products. So although these products have been designed for Fleshlight masturbation sleeves, later we discuss a different way for you to clean your Flehslight without the expensive products. However, first things first, below is the official way to clean your Fleshlight.
Remove the Case
Start off by removing the masturbation sleeve from the plastic case. You should be able to un-screw the base of the Fleshlight and then pull the sleeve straight out of the case.
Wash the Case
Start off by washing the plastic case in the sink or a bowl of water. You can even clean the plastic case with soap. However, this is the only time that we recommend using soap to clean your Fleshlight. After you have soaped it up, rinse it off and dry it with a towel.
Wash the Inner Sleeve
Hold your Fleshlight sleeve under the tap, allowing water to pass through the open end. This is great for rinsing out your seamen. After you have run water through the sleeve for around thirty seconds, slowly push your finger through it. Then you can rinse it again.
Spritz with Flesh Wash
After you have rinsed through the inner sleeve spray with Fleshlight Fleshwash, a specifically formulated anti-bacterial cleaner.
Dry Your Sleeve
After you have sprayed with Fleshwash you need to make sure you dry your Fleshlight. There are a couple of ways you can do this, one being simply leave your Fleshlight sleeve on a towel and let it air dry. Alternatively, you can hang your Fleshlight on your bath and let it drip dry.
The Unofficial Method
The unofficial method of cleaning your Fleshlight is a cheaper way for you to maintain your Fleshlight.
Remove the Case
To start, remove the inner sleeve of the Fleshlight from the plastic case, as we did with the first method.
Wash the Case
Once you have separated the sleeve from the case you can then clean the case with soapy water. Make sure you then rinse the case and dry with a towel.
Soak and Rinse the Inner Sleeve
Now simply soak and rinse your Fleshlight sleeve in a bowl of warm water. After you have soaked it for a few minutes you can then rinse it through the middle.
Dry Your Sleeve
Finally, dry your Fleshlight sleeve however you prefer to do so.
How To Refresh Your Fleshlight
Keeping your Fleshlight feeling brand new isn't just good for your Fleshlight, it is good for your sexual stimulation each time you use it.
Fleshlight Renewing Powder
Fleshlight renewing powder is a must, this add on product is essentially just corn starch in an easy to use case. The Fleshlight Renewing Powder will make your superskin sleeve feel super soft.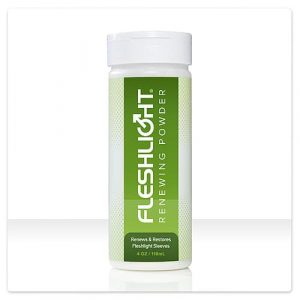 You can buy the Fleshlight Renewing Powder today from our online store!
Cornstarch
This is a cheaper way of making your Fleshlight super skin feel brand new. Apply some cornstarch to your Fleshlight and then dam it in and it will make it feel brand new in no time at all!
Quick Tips For Cleaning Your Fleshlight
Here are some quick tips to help make sure that you get the most out of your Fleshlight.
Do
Store your Fleshlight in a case
Keep your Fleshlight separate from other inserts
Use refresh powder to make it feel soft
Don't
Use talcum powder on your Fleshlight
Share your Fleshlight
Use silicone lubricant (always use water-based lubricant)
Summary
Taking proper care of your Fleshlight is a must. Make sure you wash your Fleshlight after every use, and always make sure you apply refresh powder to your product once dried in order to keep a soft feel to it.