How To Use A Wand Vibrator
Wand vibrators are some of the most popular female sex toys, and also some of the most famous. They are some of the most powerful vibrators available, and using them can initially be quite daunting. Our sex educators and sex toy experts have created a guide to help you learn how to use a wand vibrator.
What Is A Wand Vibrator?
Wand vibrators are a type of clitoral vibrator that is designed for targeted sexual stimulation. These massaging devices are used as sex toys and consist of a rounded vibrating ball that is attached to a handle. They often look like a microphone due to their shape. Wands usually feature a flexible head, this allows for you to apply more pressure to your clitoris, and for the wand vibe to fit suit your anatomy more!
Wand vibrators are usually either mains powered or rechargeable. Mains operated wand vibrators, like the Doxy or Hitachi Magic Wand, are usually more powerful than their rechargeable counter parts.
Magic wand vibrators are some of the most powerful vibrators available to buy. As such if you are buying a wand vibrator or sex toy for the first time then we recommend using a smaller wand, or a rechargeable, less powerful one.
How To Use A Magic Wand Vibrator
If you think that a wand vibrator is the right sex toy for you buy want to find out the best ways in which to use it then continue reading below.
Warm Up
With any sex toy we always suggest warming up. Get yourself aroused! If that involves you turning on some music or dimming the lights then do it! Then start to touch yourself, this will encourage the blood to flow to your intimate areas. This will also help you to have a stronger orgasm.
Start Slowly
Once you are relaxed and aroused it is time to start using your magic wand vibrator. Start off by pushing the wand against your vulva, and turn it on to its lowest setting. Once you feel comfortable with that then start to move through the settings, finding one that you enjoy. Many wand vibrators have numerous different settings and patterns so try all of them before you settle for one to bring you to climax. You never know, you may find one that you love the feeling of.
Don't Stop Until You Get Enough
Wand vibrators are extremely powerful, so more often than not if you keep them in one place your erogenous zones may start feeling numb. As such make sure you constantly move the wand vibrator around. It is important that you do this in order to make sure you don't damage any nerve endings in your vagina. If you do feel any numbness or desensitisation then it is probably best to move the vibrator elsewhere, or stop using for a period of time.
Try moving the wand vibrator around in different motions to prevent this. You will probably also find that these sex toys will make you climax extremely quickly. So once you feel yourself starting to climax, keep applying pressure with the wand and let it throw you into orgasmic bliss.
Use Attachments
Wand vibrators feature balls on the top of them that emit powerful vibrations. Many sex toy manufacturers who produce wands create attachments to go with them. These attachments include rabbit vibrators, g-spot vibrators and even couples vibrators.
Many of the attachments allow for you to turn your wand into an insertable sex toy, meaning that you can turn your wand into a very powerful different type of vibrator.
How To Use A Wand Vibrator During Sex
Wand vibrators are fantastic for solo masturbation, however like other clitoral vibrators they are also great for partnered masturbation. You can use a wand vibrator during foreplay and penetrative sex.
Why Use A Wand Vibe During Sex?
Using sex toys in the bedroom is a normal thing to do, and wands provide powerful vibrations which means that can be used to stimulate a variety of different erogenous zones.
Wand vibrators are great for clitoral stimulation, penis stimulation and are also great for an erotic massage during foreplay. So why not start off by slowly massaging your partners body with the wand vibrator, slowly increasing their arousal before moving on to some targeted sexual stimulation.
Best Positions To Use A Wand Vibrator
There are many positions for you to use your wand vibrator in, here are some of our favourites.
Missionary
Using a wand vibrator can really spice up this classic position. Lay on your back and hold the wand vibrator against your clitoral whilst you partner penetrates you. The vibrations are so strong in a wand vibrator that both you and your partner will be able to feel the vibrations. This will add a whole new range of sexual stimulation to a classic position.
Open Legged Spoon
For this position, lay on your back, spread your legs, and keep one bent at the knee. Then have your partner enter you from below, and behind. This will then expose your clitoris and allow you to apply pressure with the wand vibrator to your clitoris. It also keeps the wand vibrator out of the way of your partner, allowing them to thrust to their hearts content.
Doggy Style
If you enjoy masturbating on all fours or just simply love the feeling of your partner from behind then this could be the position for you. To take full advantage of this position lay on your stomach, even on a few pillows. Then hold the wand against your vulva whilst your partner enters you.
How To Use A Wand Vibrator for Orgasm Control
Wand vibrators are usually used for solo or partnered masturbation, however you can also use them for orgasm control such as forced orgasms or edging.
Because wand vibrators are so powerful when you use one you will usually orgasm extremely quickly. As such this makes them the perfect sex toy for forced orgasms. Edging and orgasm denial are also possible with wand vibrators by simply switching it on and off.
Which Wand Should I Buy?
If you are ready to buy a wand vibrator but not quite sure which one to get, then take a look below at a couple of our favourite ones.
The One For The Power Lover
If you are a women who loves powerful vibrators then the Doxy Magic Wand Vibrator is the right sex toy for you. The Doxy wand is 30% more powerful than the hitachi magic wand vibrator so is for any one who is a power hungry lover!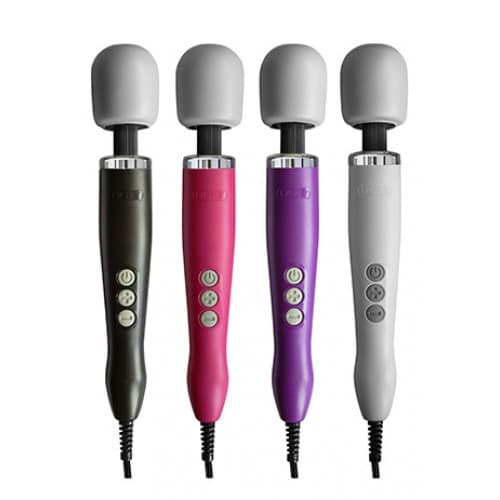 If you are a power hungry lady and want to buy a Doxy wand vibrator then you can buy one from Happy Lola today!
Shop Now
The One For The Position Master
If you want to use a wand vibrator in a variety of different positions then your best bet is to get a rechargeable one. Our best rechargeable wand vibrator is the Loving Joy VITA. This wand vibe features a silicone head and 10 different powerful functions that will drive you into orgasmic bliss in no time!
You can buy the Loving Joy VITA today from our online shop! Not only is it one of our best wand vibrators, but it is also exceptional value!
Shop Now
If you have any more questions on how to use a magic wand vibrator then please feel free to contact us and one of our sex educators or sex toy experts will get back to you as soon as they can!